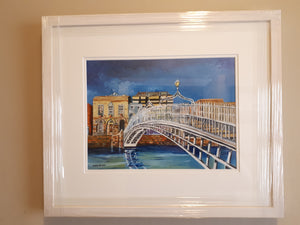 Oil on Canvas Painting of Ha'penny Bridge, Dublin, Ireland, by Cathal O'Briain.
Comes professionally framed in a new, neutral coloured frame to most styles or settings. There is an example on this web page of a neutral coloured frame. 
Painting is signed by artist.
Frame Dimensions: A3
Comes with signed and dated Certificate of Authenticity
The Ha'penny Bridge, known later for a time as the Penny Ha'penny Bridge, and officially the Liffey Bridge, is a pedestrian bridge built in May 1816 over the River Liffey in Dublin, Ireland. Made of cast iron, the bridge was cast in Shropshire, England.